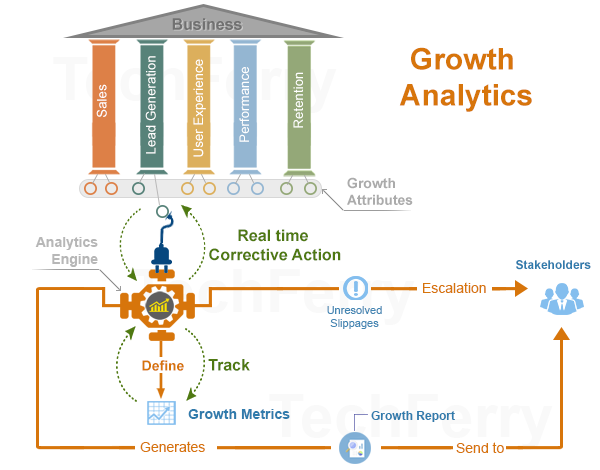 How do you define Growth Analytics?

Growth Analytics looks at all the important pillars of growth like Sales, Lead Generation, User Experience, Performance, Retention etc.

For each of these important areas, the goal is to identify growth attributes and define a growth metric that is proven to give you growth.

We must prove and quantify the correlation between this growth metric and actual growth. For example, for AirBnB, professional photographs get 2-3 times more bookings. Hence, shoots per month is a good forward metric to track.

The Growth Analytics engine uses a combination of AI - human hybrid intelligence to find key insights for your growth; it helps define and track growth metric.

Growth Area >> Growth Attributes >> Growth Metrics.

Growth Analytics doesn't stop at defining and tracking Growth Metrics. By now, we already know growth attributes or factors that improve growth metric. It captures slippages in real time, and takes corrective action immediately. If a slippage is not addressed timely, an escalation is raised.

Growth Metrics >> Real time corrective action >> Growth Report.

Finally, a report of not only growth metrics but also slippages, corrective actions, escalations is shared with management.